All Hollows Church Regent Street Hyde Park Leeds burned down in 1970 Dedicated and Unveiled Tuesday February 15th 1921.
Burley Road Boys Council School Memorial Tablet unveiled Saturday 1st October 1921 remembering 300 boys who served in the war and a number who were killed unveiled by Mrs Joseph Clarke of Burley. Dedicated by Vicar of St Simons Reverend W Ferrens. Scriptures were read by Reverend E Parker pastor at Burley Road Baptist Chapel.
Castleton Council School Green Lane New Wortley Now Castleton Primary School.
Hunslet Temperance Memorial Hall. Unveiled Saturday 24th April 1924 by Victoria Cross Winner William Boynton Butler.
Leeds City Police Force. A memorial plaque was unveiled in Leeds Town Hall on Friday 2nd November 1923 by the Lord Mayor of Leeds Frank Fountain. It remembered the 29 men from the force who gave their lives. A memorial plaque was to be placed in one of the wards in Leeds General Infirmary. The main memorial took form of a bed for perpetuity in the hospital. A cheque for a £1000.00 was handed to the hospital from the Lord Mayor. £900.00 been raised by the city's force and the other £100.00 being donated by the police cricket club. I wonder if the bed is still used and if the tablet exists.
Primitive Methodist Church Joseph Street Hunslet. Dedicated and unveiled Saturday 18th February 1922 at 15.00 Hrs by Mrs Charles Thompson, Reverend E Barraett and Reverend F J Hadfield the Lord Mayor of Leeds W Hodgson presided over the event. 
Quarry Hill P.M Church New York Road War Memorial unveiled Saturday January 15th 1921 at 19.300 Hrs by chairman Mr J Batty. No details of number of men or description of memorial available.
Quarry Hill St Marys Church Lych Gate. Houses were demolished to provide room for the memorial on St Marys Lane. Unveiled 11th November 1922 by Reverend G A Dunlop. 
St Clements Church Sheepscar. Unveiled by Reverend W H Baddeley Saturday March 22nd 1922. Demolished 1976.
St Silas Mission Church Hunslet Dedicated unveiled at 15.30 Hrs on Sunday April 17th 1921 by Preacher Mr W Ward. demolished 1956.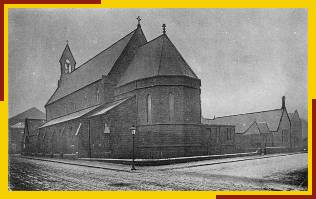 St Silas Hunslet  
St Mathews Church Chapel Allerton contained a Roll of Honour with over 80 names. Church was demolished in the 1930s not known if the memorial survived.
Woodhouse Carr Wesleyan Church Unveiled by Edward Greaves and Reverend E C Watson Sunday May 6th 1922. No details of memorial or number of men remembered.
YEP AND Yorkshire Post Memorial Tablet of members of staff who gave their lives in the great war unveiled by the vicar of Leeds at the YEP Yorkshire Post offices Friday November 18th 1921. YEP has grainy photo of the memorial on this date. not possible to read but appears to remember 34 men.